Dijon-Rosemary Crusted Prime Rib Roast with Pinot Noir Au Jus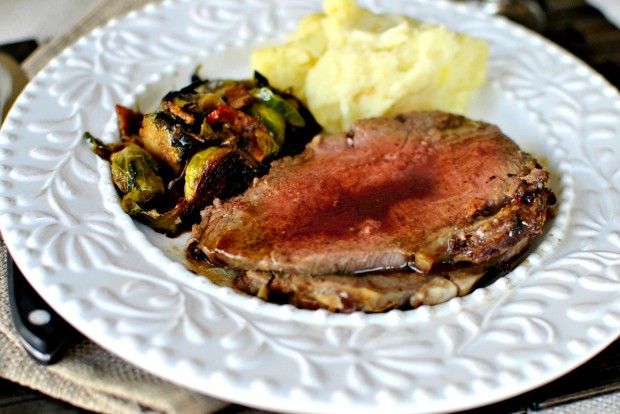 This is such a wonderful recipe. The strength of the beef cradle in the subtleties of Dijon and Rosemary. My mind went right to Tempranillo. Tempranillo can be pretty forward but I think it  would catch the Rosemary just right but stand up to the marble of the Prime Rib.

Try this month's new Tempranillo, Broken Earth
and thank you Simply Scratch for this delicious recipe.
Ingredients:
7 pound Standing Rib Roast (bone in)
1 teaspoon of Kosher Salt
1 teaspoon of Freshly Ground Black Pepper
6 Cloves of Garlic, smashed and peeled
1/3 cup Dijon Mustard
2 tablespoons chopped Fresh Thyme
1-1/2 tablespoons of chopped Fresh Rosemary
1-1/2 tablespoons Olive Oil
Cooking Spray
2 cups Beef Broth
2/3 cup Pinot Noir
Directions:
Let the roast sit at room temperature for 1 hour and 30 minutes.
Preheat your oven to 400 degrees and spray your roasting rack with cooking spray.
In a food processor (a mini processor works great here!) pulse the peeled garlic cloves until minced. Add in the chopped thyme, chopped rosemary, mustard and olive oil. Pulse until combined.
Trim off any excess fat off of the roast and season the entire thing with the kosher salt and black pepper. Use your hands and rub the Dijon mixture over the entire roast.
Place the roast on the prepared roasting rack and set into a large roasting pan and insert an oven-safe digital thermometer into the center of the thickest part of your roast.
Bake at 400 degrees for thirty minutes. Reduce the heat to 350 degrees (DO NOT OPEN THE OVEN DOOR) and cook for another 30 minutes.
Pour in the 2 cups of beef broth and return the roast to the oven to cook for another 30-40 minutes or until the internal temp registers at 135 degrees.
Remove the roast and let it rest on a carving board while you make the Au jus.
Place the roasting pan with all of the drippings on two burners and bring to a boil. Pour in the 2/3 cup of Pinot Noir and cook, stirring often for 6 minutes or until it reduces to 3/4 of a cup.
With a carving knife, slice the roast along the bones and set those off to the side. Slice the prime rib and serve with a tablespoon or so of the Au jus over top.
Serves 12-14 people.