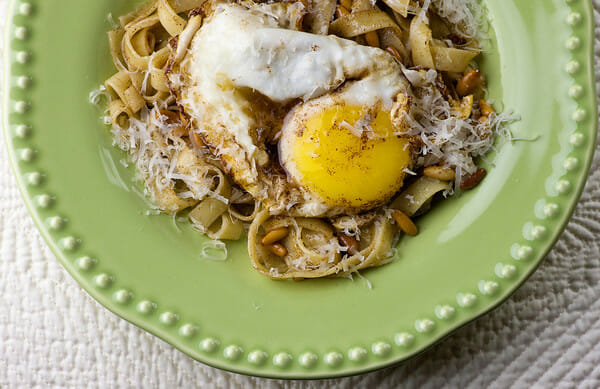 8 oz. Fettuccine
2 Sticks Unsalted Butter
4 Eggs
3/4 cup Pine Nuts
Freshly Ground Black Pepper (to taste)
Freshly Grated Parmesan
Kosher Salt (to taste)
Grated Nutmeg (to taste)
Preparation:
1. Bring a large pot of salted water to a boil and add pasta
2. Cook, sitrring occasionally, until al dente, about 4 minutes.
3. Set a strainer over a bowl; drain pasta, reserving 1/4 cup pasta cooking water and set aside.
4. Melt butter in a 12″ skillet over medium heat.
5. Add pine nuts and cook, stirring often, until golden brown, about 10 minutes.
6. Using a slotted spoon, transfer pine nuts to a bowl.
7. Working in two batches, crack eggs into butter and cook, spooning butter over yolks, until whites are set but yolks are still runny,out 3 minutes.
8. Transfer effs to a plate and keep warm.
9. Add pasta and half the pine nuts to skillet and toss until hot.
10. Stir in some of the reserved pasta water to create a sauce, then season with salt and pepper.
11. To serve, divide pasta between 4 serving plates and top each serving with a fried egg. Sprinkle with remaining pine nuts, parmesan and nutmeg.
Serve this with Gaucho Malbec
Visit:
http://www.wineofthemonthclub.com
http://www.wineofthemonthclub.tv
http://www.facebook.com/WineoftheMonthClub
http://twitter.com/WineoftheMonth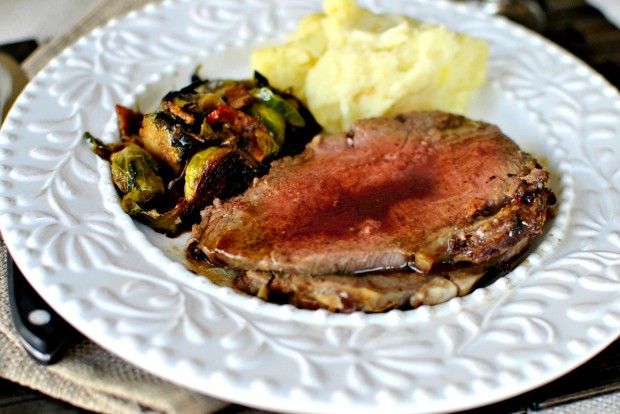 This is such a wonderful recipe. The strength of the beef cradle in the subtleties of Dijon and Rosemary. My mind went right to Tempranillo. Tempranillo can be pretty forward but I think it  would catch the Rosemary just right but stand up to the marble of the Prime Rib.

Try this month's new Tempranillo, Broken Earth
and thank you Simply Scratch for this delicious recipe.
Ingredients:
7 pound Standing Rib Roast (bone in)
1 teaspoon of Kosher Salt
1 teaspoon of Freshly Ground Black Pepper
6 Cloves of Garlic, smashed and peeled
1/3 cup Dijon Mustard
2 tablespoons chopped Fresh Thyme
1-1/2 tablespoons of chopped Fresh Rosemary
1-1/2 tablespoons Olive Oil
Cooking Spray
2 cups Beef Broth
2/3 cup Pinot Noir
Directions:
Let the roast sit at room temperature for 1 hour and 30 minutes.
Preheat your oven to 400 degrees and spray your roasting rack with cooking spray.
In a food processor (a mini processor works great here!) pulse the peeled garlic cloves until minced. Add in the chopped thyme, chopped rosemary, mustard and olive oil. Pulse until combined.
Trim off any excess fat off of the roast and season the entire thing with the kosher salt and black pepper. Use your hands and rub the Dijon mixture over the entire roast.
Place the roast on the prepared roasting rack and set into a large roasting pan and insert an oven-safe digital thermometer into the center of the thickest part of your roast.
Bake at 400 degrees for thirty minutes. Reduce the heat to 350 degrees (DO NOT OPEN THE OVEN DOOR) and cook for another 30 minutes.
Pour in the 2 cups of beef broth and return the roast to the oven to cook for another 30-40 minutes or until the internal temp registers at 135 degrees.
Remove the roast and let it rest on a carving board while you make the Au jus.
Place the roasting pan with all of the drippings on two burners and bring to a boil. Pour in the 2/3 cup of Pinot Noir and cook, stirring often for 6 minutes or until it reduces to 3/4 of a cup.
With a carving knife, slice the roast along the bones and set those off to the side. Slice the prime rib and serve with a tablespoon or so of the Au jus over top.
Serves 12-14 people.
This looks so good…..I sat imagining the flavors and it hit me. A Sicilian Grillo! This wine was the leanness to hold up to the cheese and the saltiness (not really sodium) to compliment the tapenade….can't wait to try it!
Olive Tapenade
Grilled Cheese
Makes one big sandwich

Ingredients:
2 slices rustic bread, sliced
4 tablespoons black olive tapenade
2 slices mozzarella cheese
2 slices tomato
Kosher salt, to taste
2 tablespoons butter
Pat tomato slices dry, sprinkle with salt, and set aside while you assemble the other ingredients. Spread each slice of bread with two tablespoons of the tapenade. Top with cheese, and the sliced tomato. Butter outside of sandwich, and cook in a skillet over medium heat until cheese melts and bread is golden brown.
You can find the wine here: Sicilia Grillo, Wine of the Month Club
and the recipe here: From Away
I can smell this recipe just reading it…wow…and another tough pairing. Most dishes with Indian spices are hard to pair and wine just doesn't do well with spicy foods.  Traditional wisdom puts a Riesling or Gewurztraminer with this dish…I am out on a limb suggesting our Picpoul de Pinet from Felines Jourdan.
You can find the recipe here: The Amateur Gourmet
Don't forget to check out the wine here: Wine of the Month Club
Well..duh. The pairing wine is in the recipe…and I would agree that a nice Pinot Grigio would do well…our Sycamore Lane is a great match. For a red however, I am thinking our Syrah/Tempranillo from 2 Copas.
Get This Recipe Here: Amateur Gourmet
Get The Wine Here: Syrah/Tempranillo
Whew…this is serious stuff. I would normally run for the hills on this… you have butter, then tons of garlic, olive oil and  anchovies..OMG. To the rescue our Vermentino Chardonnay from Papillon. Incredible pairing.
Get the recipe here: Amateur Gourmet
Get the wine here: Vermentino Chardonnay
ON the surface this looks pretty straight forward…then the cumin and coriander turns it toward an Indian dish (and I love cumin). I was searching my wine list to grab the variety of flavors and not compete with them. Bingo….our Babcock Cabernet from Santa Barbara. Mmmmm.
Get the recipe here: Amateur Gourmet
Get the wine here: Wine of the Month Club
This reminds me so much of my Grandmother chicken. One of the highlights of my childhood was to go to grandmas…hoping this dish was on the table. I feel the thyme in this adds so much flavor I want a nice lighter red (with a hint of spice) to pair. The Oak Grove Zinfandel will fit the bill. Enjoy.
Get the recipe from Amateur Gourmet
Get the wine from Wine of the Month Club
Here is the deal. Bread, cheese and onions…light Chardonnay. Here I am pairing a light wine, Cardiff Chardonnay, with a heavier dish. This is not a big over oaked Chardonnay, but a light, fruity version that I think will pick up the caramelized onion. Making this tonight!
Get the recipe here: Amanda's Cooking
Get the wine here: Wine of the Month Club
Asian style foods are always a challenge to pair wine. A variety of flavors and textures makes it a fun challenge. The key in this recipe is the coconut oil, honey and soy sauce. I made a beeline for our Cooralook Pinot Gris from Australia. The balance of tropical flavors and the weight on the tongue will do well.
Get the recipe here from Simply Scratch.
Get the wine here from Wine of the Month Club