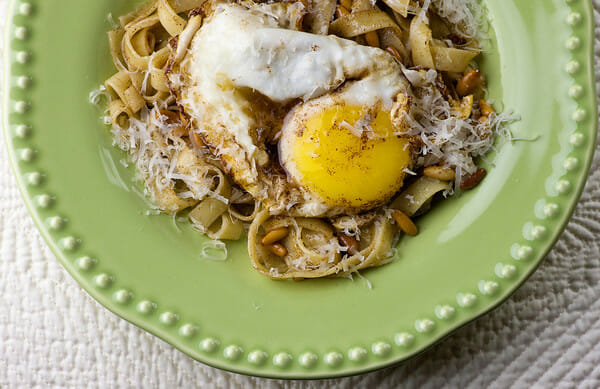 8 oz. Fettuccine
2 Sticks Unsalted Butter
4 Eggs
3/4 cup Pine Nuts
Freshly Ground Black Pepper (to taste)
Freshly Grated Parmesan
Kosher Salt (to taste)
Grated Nutmeg (to taste)
Preparation:
1. Bring a large pot of salted water to a boil and add pasta
2. Cook, sitrring occasionally, until al dente, about 4 minutes.
3. Set a strainer over a bowl; drain pasta, reserving 1/4 cup pasta cooking water and set aside.
4. Melt butter in a 12″ skillet over medium heat.
5. Add pine nuts and cook, stirring often, until golden brown, about 10 minutes.
6. Using a slotted spoon, transfer pine nuts to a bowl.
7. Working in two batches, crack eggs into butter and cook, spooning butter over yolks, until whites are set but yolks are still runny,out 3 minutes.
8. Transfer effs to a plate and keep warm.
9. Add pasta and half the pine nuts to skillet and toss until hot.
10. Stir in some of the reserved pasta water to create a sauce, then season with salt and pepper.
11. To serve, divide pasta between 4 serving plates and top each serving with a fried egg. Sprinkle with remaining pine nuts, parmesan and nutmeg.
Serve this with Gaucho Malbec
Visit:
http://www.wineofthemonthclub.com
http://www.wineofthemonthclub.tv
http://www.facebook.com/WineoftheMonthClub
http://twitter.com/WineoftheMonth
Who doesn't love a good olive oil & balsamic vinegar combo?!
Two nights ago, Sandra made her famous Crostini. So I knew I had to write about it on our blog. Ok..I called it Bruschetta when it is Crostini…regardless, simple recipe that highlights good olive oil and balsamic vinegar. Take a look…and try not to get hungry. Wonderful Crostini with the Vistalba Extra Virgin Olive Oil and Melina's Balsamic Vinegar. Easy to make and always a big hit when entertaining.
(Watch some of our other great videos here and don't forget to SUBSCRIBE.)
Sandra's FAMOUS Crostini
What you need:
Ciobatta Bread
Baking Pan
2 dipping bowls
Cooking brush
Rock Salt ( I used Peruvian Pink Rock Salt..)
Parmesan Cheese
How to:
Preheat oven to 350 degrees
Spray your cooking sheet
Cut the Ciobatta Bread into really thin slices (1/4 of an inch)
Place slices on the sheet
Put the olive oil and vinegar in two small dipping bowls
Take the Vistalba olive oil and dab it onto the bread slices
Take the balsamic vinegar and dab it onto the bread too
Sprinkle a little rock salt on top
Sprinkle Parmesan cheese on top
Bake for 15-20 minutes
Let it cool so it gets crunchy
ENJOY!
Visit:
http://www.wineofthemonthclub.com
http://www.wineofthemonthclub.tv
http://www.facebook.com/WineoftheMonthClub
http://twitter.com/WineoftheMonth