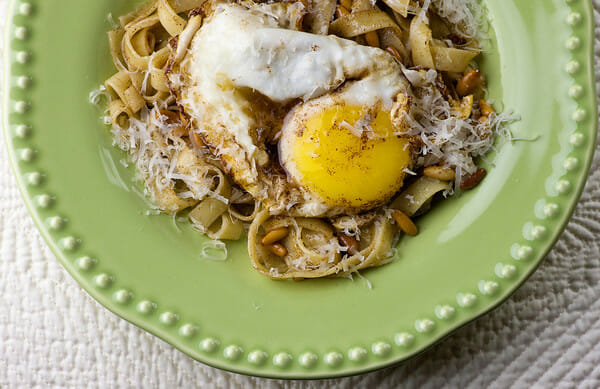 8 oz. Fettuccine
2 Sticks Unsalted Butter
4 Eggs
3/4 cup Pine Nuts
Freshly Ground Black Pepper (to taste)
Freshly Grated Parmesan
Kosher Salt (to taste)
Grated Nutmeg (to taste)
Preparation:
1. Bring a large pot of salted water to a boil and add pasta
2. Cook, sitrring occasionally, until al dente, about 4 minutes.
3. Set a strainer over a bowl; drain pasta, reserving 1/4 cup pasta cooking water and set aside.
4. Melt butter in a 12″ skillet over medium heat.
5. Add pine nuts and cook, stirring often, until golden brown, about 10 minutes.
6. Using a slotted spoon, transfer pine nuts to a bowl.
7. Working in two batches, crack eggs into butter and cook, spooning butter over yolks, until whites are set but yolks are still runny,out 3 minutes.
8. Transfer effs to a plate and keep warm.
9. Add pasta and half the pine nuts to skillet and toss until hot.
10. Stir in some of the reserved pasta water to create a sauce, then season with salt and pepper.
11. To serve, divide pasta between 4 serving plates and top each serving with a fried egg. Sprinkle with remaining pine nuts, parmesan and nutmeg.
Serve this with Gaucho Malbec
Visit:
http://www.wineofthemonthclub.com
http://www.wineofthemonthclub.tv
http://www.facebook.com/WineoftheMonthClub
http://twitter.com/WineoftheMonth